You may have noticed the increasing number of massage parlours opening across shopping centres in your local area. Small shops with beds and curtains. These truly are a great place to relax and enjoy being pampered and are good for your health.
Many people still associate massage parlours with other types of pleasure, but the vast majority and all the ones that you walk past in shopping centres do not associate themselves with these kinds of pleasures anymore.
1. The benefits of Massage Therapy for Seniors
I have heard that many people are worried about getting a massage as a senior, or about how to go about ordering a massage or what they will receive, or not knowing exactly what they want, so they simply walk by and this is such a shame as there is a lot of research that highlights the benefits of massage therapy, especially for seniors (E. Kennedy & C. Chapman, 2006).
Research shows that regular massage not only can help with sleep disorders (R. Nelson & C. Foyle, 2010) but for seniors who may be taking a range of medications, massage therapy can also help with balance and blood pressure (J. Sefton, C. Yarar & J. Berry, 2012).

With so many benefits of massage for seniors, you may now be interested in getting a massage immediately, but the thing to do first is to check with your Dr. if it is ok for you to receive massage therapy, and are there any types of massage you should avoid?
Usually this is not a problem, but you may have an underlying condition, or you may have just had surgery and you may need to  make your therapist aware of it.
The next step is building up the courage to ask for a massage when you may have no idea what you are asking for, well rest assured it is not difficult and once you have asked once you will have the benefits of a lovely massage.
2. A massage for seniors
Depending on where you go for your massage, your experience may be a little different, but we will look at two main types of experiences you may have. Remember, these are very broad and stereotyped, so you may have a very different experience, or an experience that lies somewhere between these two. It is best however to choose a place that does ask you for your medical history and always check with your health care professional that it is ok for you to receive a massage.
Shop store
Usually you will come up to a outer counter, where there may be signage that has words such as "neck", "shoulders" and then a price. This indicates the areas that they will work on and how much it will cost. Some places may tell you the time, others may not. The usual rule of thumb is a base of $5, plus one dollar a minute. So $35 will be approximately 30 minutes of massage.
Feel free to ask questions: the person at the front desk should know, or be able to find someone who knows. If English is not their first language, don't shut off, try and communicate what you would like to know, and don't have the massage until you are comfortable that you are aware of what you are getting.
You may also be asked what type of massage you would like, see our list below for the different types of massage available. This is by no means a comprehensive list so please ask if you are unsure of what you are getting.
You may also specify the gender of your masseuse. Before you go in or maybe when you go in, you may be asked if you want oil. What they are asking is if you would like you masseuse to use oil. You may not like oil, or you may have an allergy and you can say no to oil, but the reason that oil is used is so to reduce friction between the masseuse fingers and your skin.
You may, depending on your massage selection, be directed to a chair. Usually this occurs for head and neck, and shoulder massages. If you are not comfortable with this, tell them so and asked to be moved to a room, they may move you straight away or if all rooms are full there may be a little wait.
You will be taken to your room which will consist usually of a massage table, curtains, and a small chair and table for the masseuse. You may also see a small basket, this is usually for you to put your belongings in. You will be left alone to disrobe. If you are not comfortable disrobing, let the staff know and you will be given time to settle onto the table. If you disrobe, lie face down on the table with your head at the end of the table with a hole (this is for your face).
The Massage
You may be taken into a room before your massage and asked about your medical history, including any operations and allergies, or injuries. You may be asked  what kind of massage you want, see our list below for kinds of massages, but feel free to ask You may also be given free time, in a spa or hot room if you wish, and some may even give you a selection of music that you wish to have played during your massage or drinks, that they will bring to you.once this is complete, you will be taken to your room, and left alone to disrobe or to enjoy the facilities. Once you are ready for your massage, lie down with your head at the end of the table with a hole, this is for your face.
Some other services that massage places may offer, and this will depend and vary greatly place to place, and can included, a foot massage, ear candling, which is where a long hollow candle is place into your ear and lit, and it is said to remove toxins, but there are some studies which do not support this (E.Edzard 04), There are also  detoxifying foot massages , where your foot is placed in a special liquid, which draws the poisons from your body, acupuncture, where needles are placed in certain parts of your body, and many more.
3. The Benefit of Massage for Seniors: Men
We have added a men's section here, as from our personal experience we have realised that it is often men who feel most uncomfortable about getting a massage. There is nothing to be concerned or embarrassed about. If you are uncomfortable disrobing, then let the masseuse know, and usually they can work around this, and remember you will more often than not have the chance to select the gender of your masseuse.
It is also very uncommon these days for "special additions" to be added to massages, so do not be worried about this. A massage is a great way to relax, and even help with old injuries, remember many sports star and professional athletes receive massages on a regular basis. Give a massage a go and see how you feel.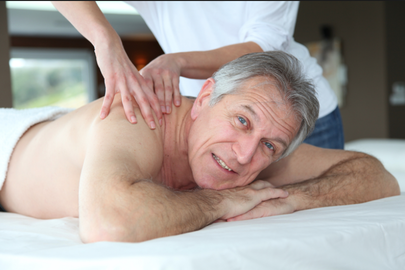 Once you are in the massage room
Once you are in the massage room, you have a few more minutes of talking before you start your massage. your masseuse will enter your room and they may ask you a few questions. These questions may just be to confirm what type of massage you would like, or to confirm any health issues, or areas that you would like to avoid or have massaged.
This is the time to reconfirm any medical issues that your masseuse may need to be aware of and confirm or ask anything that you are worried about.
Once your massage starts you can just lie there and relax, occasionally your masseuse may just confirm if the pressure of their touch is the right level for you, you can tell them you would like it to be more firm or less firm. Remember at any time throughout the service if something is causing you discomfort tell the masseuse so that they can adjust accordingly.
Your masseuse may not speak at all during your massage, or they may ask a few questions at the begin to ascertain if you would like to speak during your massage, do not feel guilty for not speaking, masseuses are used to people who do and don't like to talk throughout the service.
You may or may not like disrobing for your massage, and that is ok, just let your massage therapist know. Some massage places will not even require you to disrobe. Some massages will require you to disrobe, but if you are uncomfortable with this, simply ask which massages do not require you to disrobe.
Disrobing for and women is the same, it requires the removal of everything but your underwear, women this includes your brassiere. Some places will have disposable underwear for you to use, and some may have a robe for you to wear until the masseuse comes in and replaces it with a towel.
Most places will cover you with a towel while they warm up your body and remove this when the massage continues. If you are having a whole body massage, usually the parts of your body that are not currently being massaged will be covered with a towel to avoid you cooling down.  Some places may use a warm wet towel after they have finished an area, to wipe off the oil.
4. A massage kind of day
Perhaps you have had several massages and would like to enjoy a relaxing day out with your friends, children or spouse.
A massage day is a great day out! It can be combined with a nice dinner or lunch, or even a great location and many places now cater to relaxing spa days. Places that offer spa days, may have activities involved, or they may offer meals and drinks form the region you are in. Some places offer you full use of the spa facilities such as spas, steam rooms and pools, while others may give you private rooms that include these.
Couples massages specifically cater to the romantic and can be a nice way to enjoy a day together doing something different. Even if you don't feel like all these extras, having a regular massage with friends or family, followed by a  nice meal or time together is just as rewarding and invigorating, so why not give it a try.
Make sure you check with your Dr. before you get a massage.
Inform your masseuse of ALL your medical history.
If it is too painful above a 6, tell your masseuse.
Warn your masseuse of tender areas, or old injuries.
Ensure that your masseuse is certified.
Don't eat heavy meals before your massage.
Visit the bathroom before your massage.
Drink water after your massage.
If it is the first time you are visiting the clinic arrive ten minutes early, to fill out forms.
5. The types of massage for seniors
Swedish Massage – Uses five styles of long flowing strokes, in some other languages this is referred to as classic massage. This is often used to help with joint stiffness, reducing pain, increasing flexibility and function, as well as improving circulation and relaxation.
Chinese Massage – Developed in China over 1000's of years, but what is often practised now is a blend of eastern and western. Most – but not all – Chinese massages blend light and soothing strokes with strong and invigorating strokes. It is said there are over 200 hand movements in traditional Chinese massage, which is based on a range of theoretical texts.
Thai Massage– Usuually this is done without oil, so you can have this massage fully clothed, traditionally this massage is done on a firm mat on the floor and patients are moved and stretched by the masseuse, similar to yoga, but minus all the work. The masseuse may use their body weight for this massage.
Hot Stone Massage – Heated stones are placed on specific areas of your body, the masseuse may use oil in order to be able to move the stone. Stones are placed on particular areas in order to loosen muscles. Usually the stones are dark in colour, and are usually basalt as basalt retains heat. The masseuse may apply pressure when placing the rocks, this  is a great massage for people who prefer a light type of massage.
Deep Tissue Massage – This massage is often used for chronic pain and injuries and you may feel sore for a day  or two after this message. This massage aims to work with the deeper layers of massage and tissue. Your masseuse may concentrate on certain areas, if it is painful be sure to let them know.
Shiatsu Massage – This is similar to acupuncture but with fingers. Based on a Japense style of massage fingers are used on pressure points, and are usually held firmly for a short period of time. No oil is used and you may generally remain clothed.
Reflexology Massage – This uses the wisdom that certain areas on your hands and feet are connected to vital organs, and  applying firm pressure to these will promote good health. You should not feel discomfort, and do not worry if you are ticklish, the pressure applied is firm. Please tell your therapist if you feel any pain or discomfort.
Sports Massage – This is usually used for sports people, or people who may need it for their work, it combines strokes similar to a swedish massage but a little quicker with some stretches. It aims to prevent injury.
Acupressure – This is based on acupuncture but it uses elbows and fingers instead of needles. This focuses stimulating certain areas that known to correct imbalances.
Aromatherapy Massage – This is where your sense of smell is incorporated into the massage, and is used for emotional and stress relieving massages. Your masseuse will consult you and the smell that will be used throughout your massage will depend on wether you would like a stress relieving or invigorating massage. Throughout your massage the room will be filled with the smell selected to help you. You may also be given recommendations for home.
Balinese Massage – Often hot stones may be used in conjunction with Balienese massage. Balienese massage will also use aromatherapy, omitting smells in their oils throughout the massage. Usually a Baliense massage aims to relax and calm the patient.
Area Massages – These are massages that focus on a particular part of your body, your head, arms, neck, back, legs or whatever you choose.
6. Some ailments that you need to be aware of
It is important that you inform your masseuse of your medical history, the list that we have provided below is by no means a comprehensive list, but it if you have any of the medical issues listed below, it is vital that you inform your masseuse before your massage, as the conditions below will affect the massage you receive.
If you are taking pain medication of any kind
If you have decreased sensation due to any neurological problems
Osteoporosis
Acute inflammatory Disease
Acute Cancer
Any Wounds
Osteomyelitis
Lupus
Fresh Fracture
Acute Fever
High Fever
Extreme Blood Pressure
Diabetes
Varicose Veins
Rheumatoid Arthritis, acute stage
Auto Immune Disease
7. Final thoughts on massage for seniors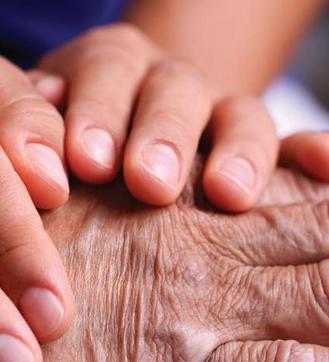 Have you ever realised how hairdressers love to chat and people speak back to hairdressers?
Many people put this down to the lack of touch in our society, and once we are touched we open up and begin to speak.
Massage can be the same, it is a therapeutic touch and while personally I enjoy having my massages in silence, you may enjoy speaking to your therapist.
Studies have shown how beneficial massage therapy can be, especially to the ageing population.
7. References
Massage Therapy and Older Adults – Eileen Kennedy and Cheryl Chapman
JoEllen M. Sefton, PhD, A.T.C., C.M.T.,1,* Ceren Yarar, PhD, P.T.,1 and Jack W. Berry, PhD2
International journal of therapeutic massage and bodyworkInt J Ther Massage Bodywork. 2012; 5(3): 28–40. Published online 2012 September 26
Edzard Ernst (2004). "Ear candles: a triumph of ignorance over science". J Laryngol Otol. 118 (1): 1–2. doi:10.1258/002221504322731529. PMID 14979962.